Ballo Stool, Sky Blue
by Humanscale
Condition:
Open Box. Item fully functional with all parts.
At A Glance:
My sixth grade teacher always told me to "keep four on the floor." The reason was because I had jittery legs and would constantly lean on the back two legs of my chair. She didn't like that. What I needed the whole time was Humanscale's Ballo Stool. This exciting and kinetic stool features two rounded sides that engage your core while you're sitting down. If you like to move around throughout the day (it's good for your health to do so), then this chair is exactly what you need. The lack of a backrest and rounded bottom gives the chair an unstable nature which means you have to keep it still. In order to do that, you have to actively concentrate on your posture. You can also dance around, which is awesome.This chair is made for the people who like to stay on the move and don't like to sit still.
Features:
Overall Dimensions: 24.5" h x 17.8" w x 17.8" d
The top and bottom non-slip, dimpled air domes are made from a thermoplastic vulcanizate (TPV) material, rather than PVC that is the industry standard and can off-gas.
Lightweight at just 13.5 pounds and with cleverly designed hand holds, Ballo can be easily moved from space to space.
Ballo comes with handle holds for easy portability.
Cone and spool column made out of polypropylene.
Air-filled, non-slip dimpled domes shape to the body and provide a comfortable sitting experience.
Counterweighted base ensures Ballo remains upright for stable movement and convenient storage.
Ballo is made from eco-friendly, easy-clean and durable TPV materials which can be configured in various hues to add color to any space.
Innovative spool-shaped central column is made from strong, long-lasting polypropylene and designed with clean lines to offer a modern aesthetic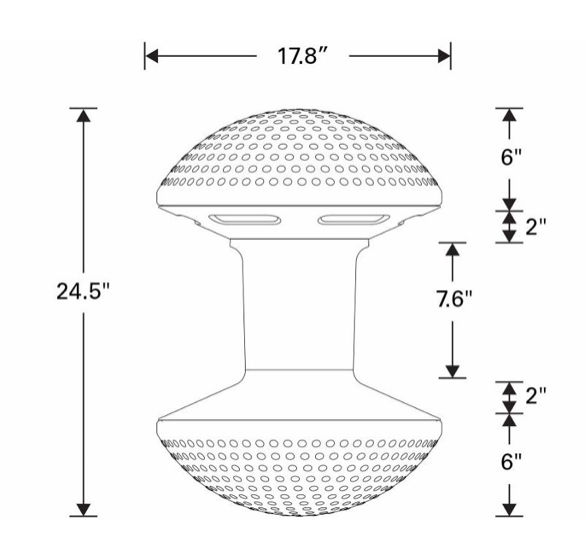 Materials:

Measurements:
Overall: 24.5" h x 17.8" w x 17.8" d

Weight: 13.5 lbs
Who We Are
OfficeDesignsOutlet.com is part of OfficeDesigns.com. We are an Authorized Retailer of the top furniture brands in the industry including Herman Miller, Steelcase, Haworth, Humanscale, Kartell, and more. Our mission is to help small and medium businesses empower their people to work better, happier and more productively by outfitting their work spaces with solutions that embrace modern work life flexibility.