Octave 8379 Quad-Width Media Cabinet, Drift Oak
Condition:
Open Box. Minor cosmetic issues, Minor signs of use, fully functional. One of the metal doors is slightly pushed inwards and shows some faint scratch like marks. One of the middle shelves is cracked in the back where it sits in the peg but it is still able to be usable. Some of the metal around the doors is able to be removed. Scratch on bottom of unit
Octave hits a high note in media cabinet design. Unique perforated steel doors let remote signals in, while allowing sound to disperse clearly, providing complete acoustic transparency. Octave's versatile design is ideal as the center of your home entertainment set-up, whether you place a TV upon it, or store your prized vinyl collection within it. Signals from your remote control easily pass through the same doors that keep components out of sight.
Features:
A perfectly positioned full-length soundbar shelf integrates a speaker — and full sound dispersion — into the overall design.
Acoustically Transparent Doors
Signals from your remote control easily pass through the remote-friendly doors
Includes adjustable shelves, hidden wheels and removable back panels for easy access to components, and cable management.
Flow through ventilation to keep things cool
Includes TV safety strap that attaches to the back of the cabinet to minimize potential accidental falls
Accommodates up to 70" TV
Designed by Matthew Weatherly
About the Manufacturer
For too long, people in the market for high-end home and office furniture have had to make a choice between pieces that are strikingly beautiful, but short on functionality, and pieces that are highly functional, but aesthetically not up to par. At BDI we're eliminating the need to choose, by applying the principles of high-end modern and contemporary design to practical, everyday furniture use. Since 1984, we've been dedicated to creating uniquely functional, beautifully streamlined, and rigorously executed furniture. The features that we've made standard — including easily adjustable shelves, fingerprint-proof glass, hidden wheels, flow-through ventilation, and meticulously thought-out cord-management systems — are a result of our ongoing dedication to beautifully practical design. We are a detail-oriented, innovation-driven team, but our obsession with the details doesn't stop with the way our products look and function. We want our customers to enjoy our pieces for years to come, which means manufacturing functionally sustainable furniture in an environmentally sustainable way. Our packaging is thoughtfully engineered to ensure everything arrives in the best possible condition, with the least possible waste. We're committed to reducing our energy usage, eliminating most styrofoam in favor of recycled and recyclable materials, and working with our manufacturers to take a green approach in all phases of operation. We've never been a company that creates design simply for design's sake. Everything we do is driven by our desire to make great design — design that combines function, innovation, and style — accessible to everyone.
DIMENSIONS
Materials:
Body:

Hardwood Veneer
Doors:

Powder Coated Perforated Steel
Measurements:
Overall: 30" H x 81" W x 20" D

Overall Product Weight: 182
Number of Shelves Behind Doors: 3
Shelves are Adjustable: Yes
Accomodates TVs up to 70"

Upper Shelf Capacity: 50 lbs.
Bottom Shelf Capacity: 100 lbs.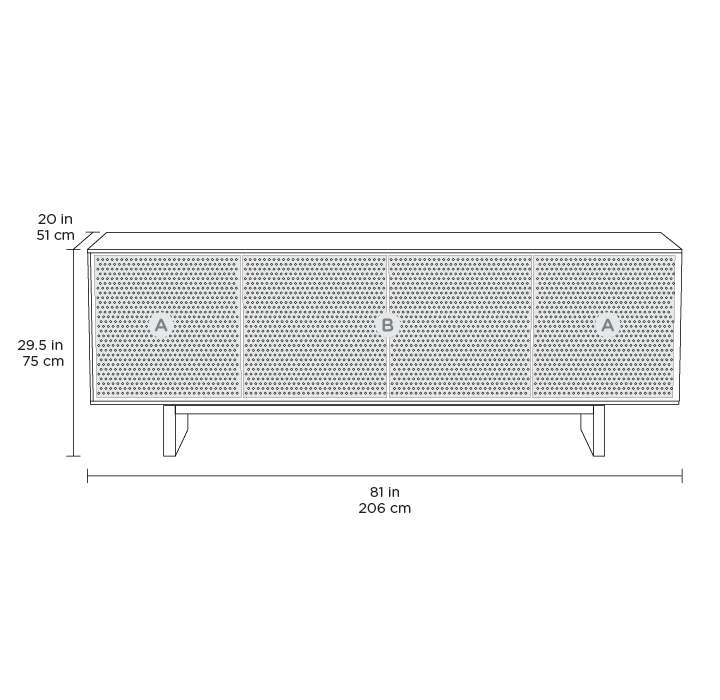 Who We Are
OfficeDesignsOutlet.com is part of OfficeDesigns.com. We are an Authorized Retailer of the top furniture brands in the industry including Herman Miller, Steelcase, Haworth, Humanscale, Kartell, and more. Our mission is to help small and medium businesses empower their people to work better, happier and more productively by outfitting their work spaces with solutions that embrace modern work life flexibility.