Stressless Consul Chair and Ottoman, Medium with Classic Teak Base by Ekornes, Chestnut Paloma Leather

Call for special pricing! (877) 977-0989
Condition:
Open Box. No product issues.


Stressless Consul Chair and Ottoman, Medium with Classic Base by Ekornes
Base Finish|Teak
Upholstery|Chestnut Paloma Leather


As an international brand, Stressless has done a fitting thing in naming three of its chairs after international-relations public servants. The Consul Small, Consul Medium, and Consul Large chairs are all part of the same style family, but in different sizes. The Consul Medium chair is the medium-sized chair of the bunch, and is perfectly suited to a comfortable domestic life.

The recline function (the Glide System) reacts to shifts in your body weight. This means you never have to hold tension in your body, like you would in many other recliners. Your head, neck, and shoulders are supported well by the Stressless Consul Chair's headrest. The headrest moves with the chair to keep your head supported in a reading position with your neck muscles relaxed. As an alternative, you can drop the headrest if you'd like to lie almost fully flat. The Plus system within the chair controls lumbar region support, so that whenever you need it, the chair moves to support your lower back. And all that's not even getting into the way the chair looks! It's refined-looking, like it belongs in the home of someone who appreciates the finer things - like you do.
With a striking combination of comfort, function, and balanced good looks, the Stressless Consul Chair is the direct result of more than 35 years of refining what Ekornes has preached all along. Slightly contemporary in its overall design, the wood frame and plush upholstery are reminders of the Stressless Consul Chair's luxurious quality.
Ekornes introduced the Stressless chair in 1971, meticulously developing and designing the chair to provide your body with the ultimate in comfort and support while sitting upright or reclined. This revolutionary design has made Stressless the ultimate recliner for the past 35 years.
Features:
Chair dimensions: 39.25" h x 29.5" w x 28" d
Ottoman dimensions: 15" h x 21.25" w x 15.25" d
Seat height: 15.75" h
Stressless Glide System: allows you to adjust the glide setting so you can automatically shift to any seating position by simply using your body weight.
Plus System: automatically provides correct support for your head and lumbar area in all positions. The lower back support adjusts in parallel with the headrest, so you can enjoy perfect support, whether you are sitting in an upright or reclining position.
ErgoAdapt: seat tilts down automatically the moment you sit down, providing the most comfortable sitting angle. If you prefer to lie down, the seat elevates to the completely flat position.
Upholstered in your choice of leather or fabric
Cushioned with two layers of foam
Glide system within the chair is made of sturdy steel
Strong, high-quality bent plywood base swivels and provides excellent stability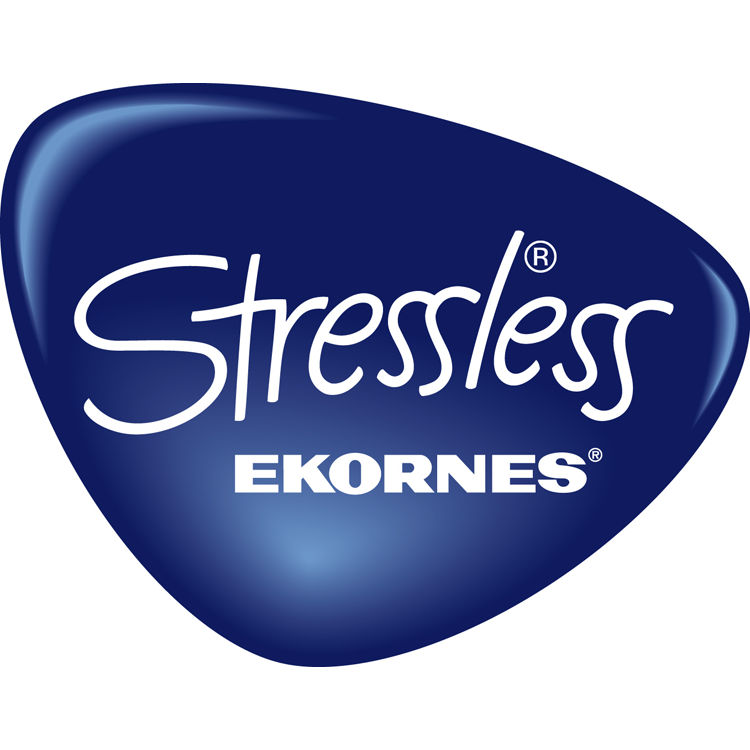 Stressless recliners and sofas have been synonymous with comfort since the company's inception in 1971. Known as the "Innovators of Comfort" - Stressless' designers and engineers have succeeded in creating a recline system that provides seamless support from your knees to your head regardless of how you're sitting. The Stressless glide system - a reclining mechanism hidden beneath the chair's plush, inviting exterior, permits freedom of movement without ever giving up lumbar, head and leg support. Combined with matching ottomans, and available in numerous sizes to accommodate, Ekornes Stressless chairs and sofas will be the most relaxing recliners you've ever experienced.
DIMENSIONS
Materials: Leather upholstery, laminated European beech base, steel recline mechanism

Dimensions:
Recliner: 39.25" h x 29.5" w x 28" d
Seat height: 15.75"
Ottoman: 15" h x 21.25" w x 15.25" d
Paloma Leather:
An aniline-dyed upholstery leather with a combination of dyes and pigments in the finish. Paloma has a natural grain pattern with visible natural marks. The light finishing treatment improves the physical properties and provides a more uniform color. Paloma has been developed to produce a very soft, rich and friendly feel. The preferred choice of those who want a soft, authentic look in leather that breathes well.