Stressless Reno Office Chair by Ekornes, Tigereye Noblesse Leather
Call for special pricing! (877) 977-0989
Condition:
Open Box. Minor cosmetic issues, Minor signs of use, fully functional. The base of chair has some scuff marks and some missing paint. The casters look used as they have been rolled around on.

The primary mission of the Stressless Reno Office Chair is comfort. It takes on this challenge in a number of ways, beginning with the material. The chair's fine leather upholstery and wood base work together to create a sense of luxury and relaxation. The softness of the leather is particularly enticing. When you're seated in the chair, an elegantly engineered system keeps your body perfectly balanced - almost like you're floating on air. Perfect for a long day in the office, the Stressless Reno Office Chair does all the work for you, with the only adjustment being the angle of the headrest.
The Stressless Reno Office chair is built with perforated foam molded directly over the frame. The indentations in Stressless' new Comfort-Zones technology allows your body to sink deeper into the seat, giving you an enhanced feeling of personal comfort. An additional pad of soft space-age foam ensures optimum comfort. The super-soft polyester fiber cushions your body and ensures an attractive look.
The Plus system within the chair controls lumbar region support, so that whenever you need it, the chair moves to support your lower back.
The recline function (the Glide System) reacts to shifts in your body weight. This means you never have to hold tension in your body, like you would in many other office chairs.
Your head, neck, and shoulders are supported well by the Stressless Reno Office Chair's integrated headrest. The headrest moves with the chair to keep your head supported in a reading position with your neck muscles relaxed. As an alternative, you can drop the headrest if you'd like to lie almost fully flat.
The American Chiropractic Association are fans of Ekornes - enough so that they've endorsed their Stressless office chairs.
The chair's 5-star base with wheels is carefully developed and designed to give optimal stability and the freedom of 360 movement.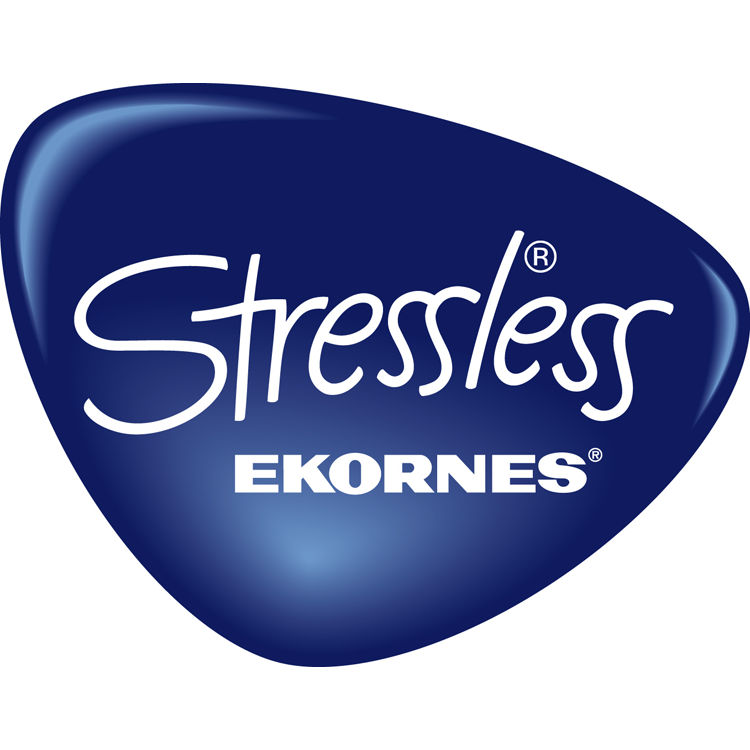 Stressless recliners and sofas have been synonymous with comfort since the company's inception in 1971. Known as the "Innovators of Comfort" - Stressless' designers and engineers have succeeded in creating a recline system that provides seamless support from your knees to your head regardless of how you're sitting. The Stressless glide system - a reclining mechanism hidden beneath the chair's plush, inviting exterior, permits freedom of movement without ever giving up lumbar, head and leg support. Combined with matching ottomans, and available in numerous sizes to accommodate, Ekornes Stressless chairs and sofas will be the most relaxing recliners you've ever experienced.
Materials:

Fabric or leather upholstery and wheel gliding base with laminate wood options
Dimensions:
Office Chair: 41.75"-48.5" h x 31" w x 29.5" d
Seat height: 17.75"-20.5"
Depth extends to 51.3"

Assembly Required: No